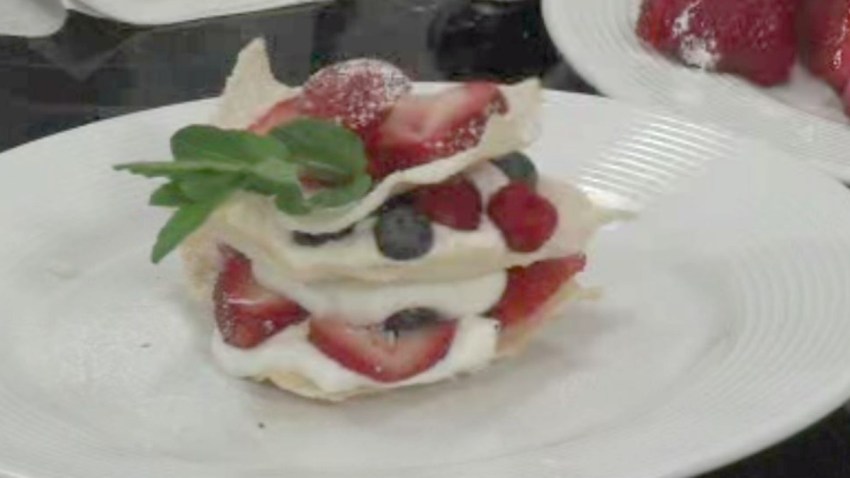 Ingredients for Crisp Pastry Layers:
12 wonton wrappers-small round or square
1/4 cup sugar
1 tsp. ground ginger
Vegetable oil for deep frying
Preparation
Heat vegetable oil in deep fry pot to 350 °F. Combine sugar and ginger and lay out on plate to dredge wontons. Separate the wonton wrappers and drop in batches of 3 into the oil. Fry until a light, even golden color appears. Remove, drain briefly on paper towels, and immediately dredge in the ginger-sugar mixture. Repeat with all other wonton wrappers. Reserve for plating.
Ingredients for Lemon Whipped Cream:
1 up heavy or whipping cream
1 Tsp. pure vanilla extract
3 Tbs. confectioners sugar
2 Tsp. lemon zest, grated fine
Preparation
Chill cream and mixing bowl very well.
Whip the cream until soft peaks form.
Sift in the powdered sugar and add the lemon zest. Gently mix to combine.
Do not overmix or cream will turn to butter. Reserve for plating.
Fresh Fruit:
2 cups any favorite summer fruit: washed, sliced strawberries, raspberries, blackberries, peaches, plums, etc.
To Assemble Napoleon:
On each of four plates, place a small dallop of the cream in middle of plate.
Stick on one layer of the crisp wonton.
Place a dallop of cream on top.
Add a spoonful of fresh fruit, top with another wonton.
Repeat this process so you have two layers of fruit and cream, and three wontons.
Dust tops with powdered sugar, garnish plate with any remaining fresh fruit, mint sprig and lemon twist.
Enjoy!