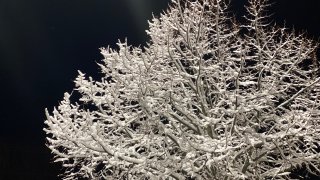 Due to forecasted extremely cold temperatures, Governor Ned Lamont has activated Connecticut's severe cold weather protocol starting Thursday afternoon.
The protocol will be enacted starting at 12 p.m. Thursday and lasting through 12 p.m. Sunday.
Wind chills Friday night and into Saturday morning could be anywhere from -15 to -35 degrees.
The state says the purpose of the protocol is to make sure that the most vulnerable populations receive protection from the severe cold weather, which can be life-threatening if there is exposure for extended periods of time.
While the severe cold weather protocol is activated, Lamont said state agencies and municipalities can coordinate with United Way's 211 and Connecticut's network of shelters to make sure anyone in need can receive shelter from the outdoors. This also includes transportation to shelters, if needed.
"Don't be fooled by this mild weather that we are experiencing right now, because it looks like a blast of arctic air and winds will impact Connecticut later this week and this weekend," Lamont said. "With the kind of severe cold weather that is headed our way, frostbite can develop on exposed skin in under 30 minutes. Spending long periods of time outdoors in these conditions is not only harmful, it can be fatal. Shelters and warming centers are available across Connecticut."
Anyone in need is urged to call 211 to get connected to the services.
For more information, you can visit the state's CTPrepares website or download the CTPrepares app.