High pressure will bring the state a beautiful stretch of weather leading into the weekend.
High temperatures will be close to the average of 85 degrees with low levels of humidity.
The spectacular weather will continue into Sunday. Humidity remains low into the start of next week.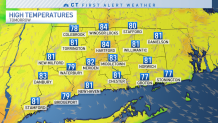 Higher humidity and warmer temperatures are expected into next week.
You can read more about the impending heat and humidity on our weather blog.
Weather Stories