Several schools closed, delayed or switched to remote learning Monday due to slippery roads after some snow.
The districts made the decision after a storm system brought a few inches of snow to parts of the state on Sunday night. For a full list of school closures, click here.
The snow continued to fall in parts of the state early Monday morning.
Temperatures hovered or were just below the freezing mark early this morning. Highs are expected to be in the low-40s today.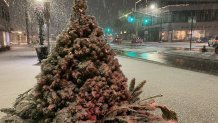 The highest snowfall accumulations from Sunday's snow were in Litchfield and northern Fairfield counties.
Take a look at some of the snowfall accumulations from across the state.
You can get the latest forecast anytime here.