Snow continues to fall for some across the state overnight while others saw a wintry mix Monday night after a storm that saw snow accumulations of more than a foot in many towns.
The storm was officially a blizzard in Waterbury and Bridgeport, which means the areas saw wind gusts of at least 35 mph with visibility at or under 1/4 mile for three consecutive hours.
Some towns are seeing snow totals in the double digits, while others, particularly in northeastern Connecticut, have seen much less impressive totals.
A Winter Storm Warning is in effect for all of Connecticut through Tuesday morning.
Hundreds of schools have closed or switched to a remote learning day for Monday, with some also already making the decision to go to remote learning for Tuesday. You can see the full list here.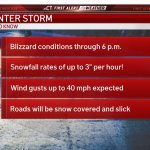 Gov. Ned Lamont has told residents that anyone who can stay home should, and that residents should only leave their homes for absolutely essential travel.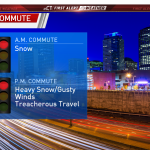 How Much Snow You May See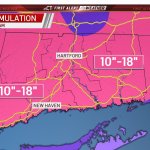 With snow falling heavily across the state, NBC Connecticut meteorologists are forecasting 10 to 18 inches of snow for most of Connecticut.
Travel Impact
NBC Connecticut meteorologists believe travel will be treacherous for the evening commute.
The governor instituted a travel ban in collaboration with neighboring states.
Then, on Monday he has signed an order amending the travel ban on certain tractor-trailers that was issued yesterday evening and went into effect early this morning. It remains in effect until further notice.
Effective immediately, the amended order bans all empty and tandem tractor-trailers from traveling on all limited-access highways statewide and all tractor-trailers from traveling on Interstate 84.
The amended order excludes those providing emergency supplies necessary for response to the COVID-19 pandemic, including vaccines, testing supplies, and medications, as well as those providing critical services or supplies to the public, such as fuel, medical supplies, and food.
Metro-North is suspending travel after 3 p.m. for outbound service from Grand Central Terminal and 2 p.m. for inbound service.
As of 3:20 p.m., CTTransit said it was suspending service in greater Waterbury, Wallingford and Meriden.
Bradley Airport is encouraging anyone scheduled to fly today to contact their airline before heading to the airport. As of 3:45 p.m., nearly all listed arrivals and departures for the afternoon and early evening were listed as canceled.
COVID-19 Vaccine Appointments Canceled, Shipment Delayed
State officials estimated that a little over 10,000 vaccination appointments had to be rescheduled due to the weather. On top of that, Monday's shipment of vaccine doses did not arrive, though Gov. Lamont said it was expected Tuesday. For more details on the ongoing coronavirus response, click here.
Impacts of the Storm
Along with heavy snow Monday afternoon, winds will start gusting 30 to as high as 50 mph.
White out conditions can't be ruled out for a time Monday afternoon.
Isolated and scattered power outages are possible.
Plow Drivers Ask Residents to Stay Home if Possible
Plow crews are working to clear the snow across the state and are asking residents to stay home if possible.
"Keep your car off the roads and don't go out unless absolutely necessary. It's imperative that our plow drivers not only get the roads passable, but also open the roads up to the edge of the road so that when the snow starts to melt, we have access to the catch basins," said Meriden Public Works Director Howard Weissberg.