After a day with spring-like warmth, a strong cold front moved across the state Saturday afternoon and brings much colder air by tonight.
An offshore storm brushes the state by Sunday morning and will bring light snow to most of the state. Minor accumulation is likely to start the day.
A few areas - especially in southern and southeastern zones - will see some additional snow during the second half of the day, as well.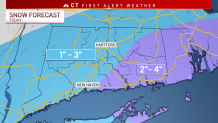 High temperatures on Sunday will likely stay in the 20s and low 30s for most of the state. That's a BIG change from what we've seen the last couple of days. Hopefully you haven't put your winter gear away just yet.
The record for Feb. 12 is 54 degrees set back in 1999. Bradley Airport peaked just shy of 60 degrees Saturday afternoon, demolishing the old record.
High temperatures on Monday will stay in the 20s. That's low compared to the state's average high temperatures for this time of the year, which is 38 degrees. Not to mention the breeziness making it feel all the more cold for Valentine's Day.
Warmer temperatures will return by later next week.