A storm system that will move through Connecticut will bring soaking rain on Thursday, and will end as snow Friday morning.
The rain is expected to start mid-morning on Thursday and will become heavy by the afternoon and evening.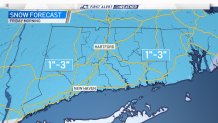 As colder air is pulled in, the rain will change to snow sometime around midnight.
The state could see anywhere from 1-3 inches of snow by sunrise on Friday.
There could be icy conditons on the roads as the temperatures fall overnight and into Friday morning.
The snow is expected to end around 7 a.m. Friday.
Weather Stories