A stretch of very hot and humid weather is coming to an end today.
A cold front will sweep through the state today bringing much more comfortable air by Sunday.
Along with the cold front, a scattered shower or thunderstorm is possible. Any storm could contain gusty winds and heavy rain.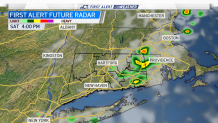 By Sunday, much lower humidity and sunshine return with lower 80s for high temperatures.
The humidity looks to remain quite comfortable through the middle of next week.