People are cleaning up after Tuesday's rain storm and flash flooding caused damage in parts of Connecticut.
Route 8 North in Seymour was impassable due to flooding, according to the National Weather Service. It is back open.
State police said multiple vehicles were stuck on the highway from exit 22 to exit 21 for hours. Those vehicles have since been cleared.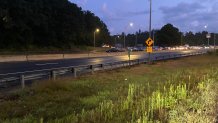 In Waterbury, firefighters said there was about three feet of water on Thomaston Avenue and multiple people and cars were stranded. The road has since cleared.
A home in the Bunker Hill section of Waterbury was struck by lightning, according to firefighters. The lightning struck the chimney and most or all of the chimney of the home fell over.
Firefighters in Cheshire were called to a home in town around 5:45 p.m. after getting a report of a structure fire. Investigators said they learned the fire was the result of a lightning strike to the home. The bulk of the fire impacted the outside of the home.
In Oxford, the storm also caused a tree to come down on a truck. It's unclear if anyone is injured.
Tuesday's storm triggered multiple severe thunderstorm warnings and flash flood warnings. All of the warnings have since expired.