All severe thunderstorm warnings that were issued have expired and storms are beginning to move out.
A severe thunderstorm warning has been issued for Windham County as storms continue to move through the state.
A severe thunderstorm warning for Windham County expired at 9 p.m. Warnings for Hartford and Tolland counties expired at 8 p.m.
Our meteorologists saw some rotation detected on radar over Simsbury. No tornado warning was issued.
Litchfield County also had warnings issued, but they've since expired.
Some towns are already getting damage reports.
The town of Norfolk is experiencing multiple incidents, including Route 44 which is closed near the town center.
It appears as though trees are down in the road and wires are burning.
In Enfield, police are responding to the area of Bailey and Broderick roads for a tree that came down across wires. A tree also fell across the road on Debbie Lane.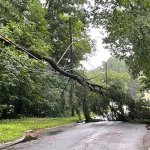 Eversource is reporting about 800 power outages, most being in Salisbury, Somers and Suffield.
Developing thunderstorms will likely last through about 10 p.m. Those storms could be strong to severe.
The biggest threat is damaging winds. As these storms move farther east and south, there's the potential for some weakening going into eastern Connecticut, where they need the rain the most.
The sun returns tomorrow with highs near 90.
Thursday will be sunny with a few clouds. Highs will be in the upper 80s. A stray shower or thunderstorm is possible.