Recreational cannabis sales to adults in Connecticut began this morning. In all, seven dispensaries opened as of 10 a.m. All adults 21 and older are now able to purchase cannabis products.
In the first day of sales, over $250,000 has been recorded, according to Biotrack, which is the inventory tracking system used to monitor the movement of cannabis products in the state's medical and adult-use cannabis markets.
"We have had no reported issues at any of our retailers, and we are proud of the successful launch of the regulated adult-use market," said Department of Consumer Protection Commissioner Michelle H. Seagull. "We continue to remind consumers to be patient as they make their initial purchases, and to use these products responsibly, including taking into consideration the delayed onset of effects some of these products can have."
The cannabis industry is estimated to bring in $73 million in state revenue by 2026.
Recreational cannabis sales began days after a state law went into effect on Jan, 1 that erases thousands of low-level cannabis possession convictions. This law erases 43,754 convictions, according to Gov. Ned Lamont.
"Today marks a turning point in the injustices caused by the war on drugs, most notably now that there is a legal alternative to the dangerous, unregulated, underground market for cannabis sales," Gov. Ned Lamont said in a statement. "Together with our partners in the legislature and our team of professionals at the Department of Consumer Protection, we've carefully crafted a securely regulated market that prioritizes public health, public safety, social justice, and equity. I look forward to continuing our efforts to ensure that this industry remains inclusive and safe as it develops."
How Much Cannabis You Can Buy in CT
Sales will be limited to 1/4 ounce of cannabis flower or its equivalent, per transaction. That includes edibles like a standard-sized brownie or cookie that can be the equivalent of .08 grams of THC, seven pre-rolled cigarettes that weigh one gram each or 14 pre-rolled cigarettes that weigh half a gram each.
Transaction limits will be reviewed over time.
Where Can You Buy Recreational Cannabis in Connecticut
Hybrid dispensaries will be located in:
RISE in Branford
The Botanist in Danbury (Note: The Botanist will not begin recreational sales Tuesday. No date is set.)
Zen Leaf in Meriden
The Botanist in Montville
Affinity in New Haven
Fine Fettle Dispensary in Newington
Fine Fettle Dispensary in Stamford
Fine Fettle Dispensary in Willimantic
Long lines and traffic are expected around the hybrid retailers so medical marijuana patients are advised to purchase any necessary medication prior to Tuesday.
In the coming weeks, many people will be walking into one of these dispensaries for the first time.
Consumers are encouraged to go online and looking at the dispensary's live menu.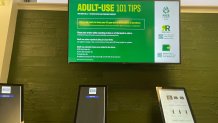 For anyone heading to a Fine Fettle store in Newington, Willimantic or Stamford, customers will need to pre-order online and book and appointment for pick-up. Zen Leaf in Meriden does not require a pre-order.
Once inside a dispensary, recreational users will need to provide a government-issued ID to prove that they are at least 21 years old.
At checkout, credit cards will not be accepted. The dispensaries are taking debit and cash, and some are cash only.
Recreational users can also expected a 20% sales tax. Medical patients are not subject to the 20% sales tax.
For more information about cannabis in Connecticut, click here.