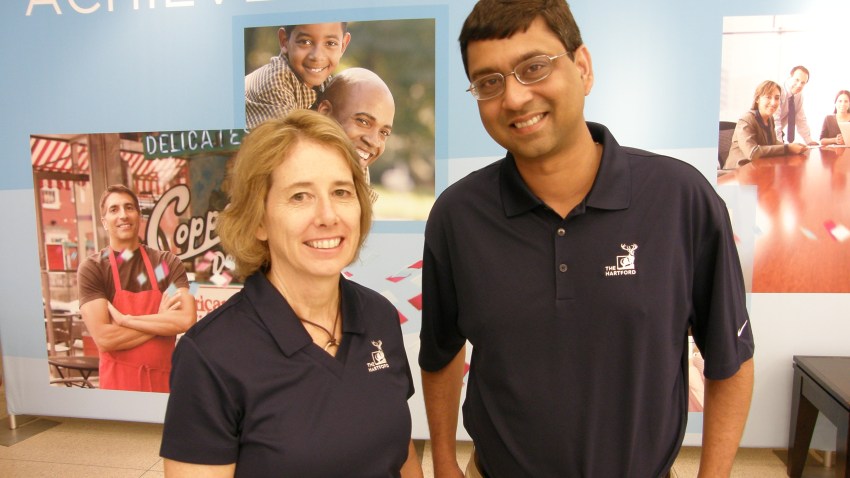 Some employees from The Hartford rang in the company's bicentennial, by ringing the opening bell to open the week on the New York Stock Exchange on Monday.
In commemoration of the company's 200th anniversary, Susan Arens, of West Hartford, and Venkataraman Ramadurai, of Simsbury, joined CEO Liam McGee for the NYSE honor.
The company was incorporated on May 10, 1810. On that day, the state General Assembly passed an act to incorporate the Hartford Financial Insurance Company. Nathaniel Terry was elected the company's first president. It has since has become one of the country's largest insurance and investment companies.
In 200 years, the Hartford insured Robert E. Lee's Virginia home, which is now part of Arlington National Cemetery, and President Abraham Lincoln's Springfield, Illinois home after he became president.
The company paid out almost $2 million in claims in 1871 after the Great Chicago fire. After a couple name changes, the company became the Hartford Financial Services Group, Inc.

Just before the company turned 200, it launched an iPhone app to help people obtain information they would need in a crash. It includes a checklist for auto crashes, a way to collect and exchange crash-related information and images and more.
The Hartford will later host an in-office celebration with local leaders and a birthday cake cutting, held simultaneously in offices around the country.
You can watch the Hartford's NYSE performance here.