While Sleeping Giant State Park in Hamden remains closed to the public, dedicated volunteers that typically keep the trails clean have been working to render them safe.
"We've been out here for months and months and months and it still does not fail to make me say, oh my gosh look at that," said Kathy Gee, a longtime volunteer with the Sleeping Giant Park Association (SGPA).
On most Sunday mornings, Gee puts on a hard hat and bright orange shirt.
"Normally, we don't come out with a chainsaw during normal times," Gee explained.
Sleeping Giant has looked dramatically different since May 15, 2018. The National Weather Service said a microburst with 100 mph winds slammed into the popular park.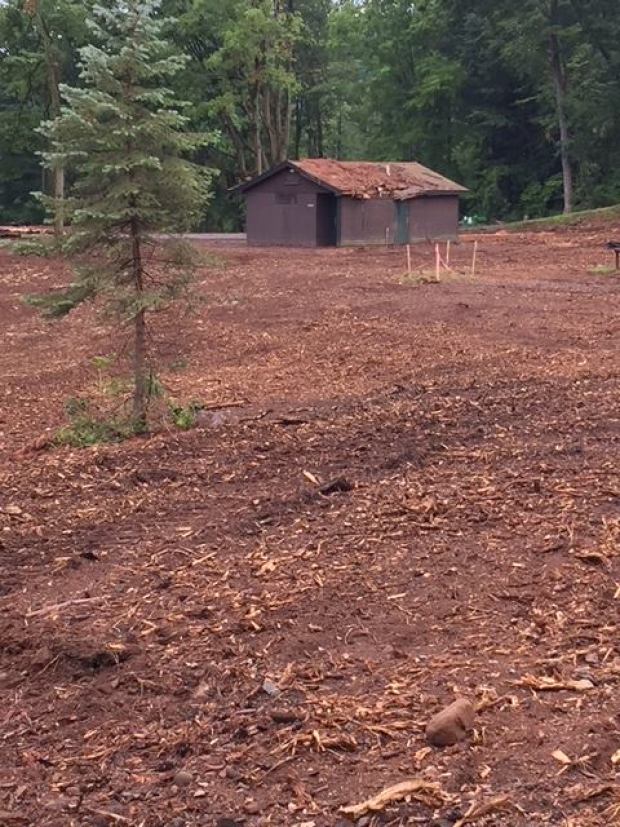 PHOTOS: Look Back at Damage at Sleeping Giant State Park in Hamden
"It looks like a bomb dropped around here," Gee said, "it has been incredible."
The powerful microburst caused catastrophic damage, as seen on the ground and from the exclusive NBC Connecticut DroneRanger aerial view almost a year after the storm.
"It's like someone, just the hand of God just swiped (the trees) right off," said Neil Geist, an SGPA volunteer.
Across from Quinnipiac University, trees by the park's main entrance that looked like toothpicks snapped in half have been cleared away.
"It's a landscape changer," Geist said, "totally shifted the whole ecosystem. It's going to be years before the trees come back."
Instead of picking up trash and maintaining 32 miles of marked trailed, the SGPA volunteers are now focused on clearing fallen trees. Their goal is to make Sleeping Giant State Park safe so its many visitors can return.
"And once all the cutting has been done then we will go around and remark because a lot of the trees brought down markers," Gee explained.
Geist said he started volunteering in early December.
"I figured maybe they needed some more trained professional help," he said.
Geist worked as an arborist on and off since the early 1990s.
"I had a house in southern Hamden and all my kids hiked here I know every trail back here pretty well," he said.
On a Sunday morning in April, Geist took down vulnerable trees on the Cross Country and Horse trails.
"So many things were compromised, weakened, that since that storm we'll clear a trail and then two weeks later come out and there's big trees that have come down since, the root system were damaged," Geist said.
SGPA volunteer Sabrina Lewis comes all the way to Hamden from Norwalk.
"This is one of my favorite parks in the entire world," she said. "Like a lot of people i just reached out."
With a growing group of volunteers, progress has been made.
Gee said they estimate they have cleared more than 2,000 trees and piles of branches, sawed off stumps and cut up logs can be spotted along the trails.
"These are just trees that we have cleared from the trails, these are not the trees that were in the picnic area or the trees along the Tower Path,' Gee said.
And yet, when the parks open, people will still be able to see a lot of the damage.
The volunteers told NBC Connecticut they cannot wait for the day when the fencing comes down and state park officials reopen Sleeping Giant to the public.
"It will mean more to my dog than me but i'll be pretty psyched to get back out here," Geist said.
The landscape may be forever changed, but feelings about the park have not.
"It will mean i can come back home really because this feels like for many people its like home," Lewis said. "It will feel so good to come back."
No official date has been set for when Sleeping Giant State Park will reopen.