A former Bridgeport police officer who claimed someone left a racist memo on police letterhead in his mailbox at headquarters in February admitted to writing the letter himself and has been charged with filing a false report, according to police.
Former Officer Clive Higgins reported that he found a racist hate letter in his police mailbox the morning of Monday, Feb. 9 and feared for his life because of it.
The letter, printed on paper marked with the department's official letterhead, started off with "WHITE POWER" and went on to say "Officer Clive Higgins doesn't belong here in this Police Department" and "These Black Officers belong in the toilet."
A month earlier, Higgins was acquitted in connection with a 2011 police brutality case in which officers were caught on camera beating a suspect at Beardsley Park and shooting him with a stun gun. Two other officers were convicted, but a federal jury found Higgins not guilty.
"He's not getting his gun or his badge back. He didn't even support his fellow Officers in Court," the letter stated. "Where were you Higgins ?? You better watch your back.. We know where you live."
The report of the racist letter prompted the Bridgeport Guardians, a minority officers' organization, to hold a news conference, calling the letter "racial, insensitive and threatening." They said it was the most recent of at least three hateful notes to circulate within the department within a year.
State police were called in to investigate and reviewed surveillance from the station, which they said showed Higgins typing and printing documents just before going into the room where he said he found the letter, according to the report.
While Higgins said he feared for his life, surveillance showed him smiling and talking when he returned from the room, according to state police.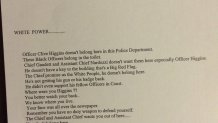 After investigators presented him with the photographs, Higgins began rubbing and shaking his head and admitted to typing the letter in the booking room himself and printing it out before calling the Bridgeport Guardians, according to paperwork filed in Superior Court.
When questioned during the investigation, officials from the Bridgeport Guardians said they had no idea who wrote the letter and that the person who did should be charged, according to police.
Higgins, who resigned from the department on July 6, has been charged with falsely reporting an incident. He was released on a written promise to appear and is due in court on Dec. 16. It wasn't immediately clear if he had an attorney.