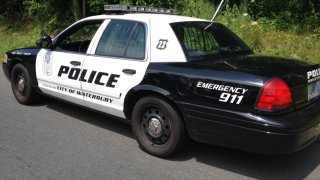 A carjacking suspect has serious injuries after a crash involving several other vehicles in Waterbury on Friday night.
Officers were called to the intersection of Hamilton Avenue and Edgewood Avenue around 6 p.m. after getting a report of a crash involving five vehicles.
According to investigators, one of the vehicles involved in the crash had been carjacked from the parking lot of the Brass Hill Mall.
The driver of the stolen vehicle, identified by police as a 19-year-old male from Bloomfield, fled onto Hamilton Avenue and struck multiple vehicles at the intersection with Edgewood Avenue before hitting a utility pole.
Authorities said the driver was taken to Saint Mary's Hospital where he is in stable condition with serious injuries.
All of the other occupants of the vehicles involved in the crash were not injured. The victim of the carjacking was also not injured.
The incident remains under investigation.