A snowstorm dumped over a foot of snow in parts of the state Sunday night into Monday morning. While many had the day off to focus on cleanup, with temperatures falling down into the teens Monday night ice will be a problem for any areas not cleared out.
Thousands of power outages were reported on Monday morning. At its peak, Eversource and United Illuminating reported more than 15,000 outages. The outages affected towns including Norwalk, Westport, Milford, New Haven and Fairfield.
The snow brought down powerlines and trees across the state and forced road closures including Route 63 in Canaan, Route 1 in Westbrook and Route 627 in Stonington.
There were more than 900 school closings and delays due to the storm.
More than a dozen flights at Bradley International Airport were canceled or delayed. Anyone who is flying from Bradley today should contact their airline for details on the status of their flight.
The snowfall ranged from 5 inches in northwestern Connecticut to up to and just over 1 foot of snow in other parts of the state. The highest amounts of snow seemed to be in parts of Tolland and Windham counties.
The snow that fell had a high moisture content to it, which means it will be heavy to clear away. The advice is to clear away as much snow as possible because a blast of cold is on the way.
Clean up will begin with a blend of clouds and sunshine and comfortable temperatures into the middle and upper 30s. The strong March sun will help improve road conditions quickly through the day.
Mid-winter cold moves in tonight and will last through most of this week. Black ice could be a problem on some roads.
High temperatures will struggle through the 20s for most of the week. These temperatures will be around 20 to 25 degrees below the average high of the middle-to-upper 40s.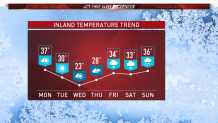 This cold snap will freeze the snow piles solid. There won't be much melting until we get milder air to work in over the weekend. Our next chance of precipitation comes next weekend with some light rain and snow showers as the milder air moves in.