Help is on the way for farmers in the state struggling with the devastating drought that's affected everything from their crops to their wells. Now, they hope that a just-approved federal disaster designation could make a difference.
All eight counties in Connecticut have received disaster designations from the U.S. Department of Agriculture as a result of ongoing drought conditions in the state.
Gov. Ned Lamont said this designation means that Connecticut farmers are eligible to be considered for certain disaster assistance from the Farm Service Agency (FSA). This includes emergency loans, as long as eligibility requirements are met.
The FSA considers each emergency loan application on its own merits by considering the extent of production losses on the farm and the security and repayment ability of the operator, according to Lamont.
"Connecticut has been experiencing drought conditions for several months now, and our local farmers are feeling the negative impact from production losses," Lamont said. "I appreciate the USDA for approving this designation, and I encourage any farmers to contact their local FSA office and apply for assistance."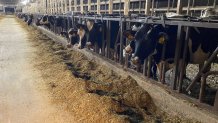 Finding enough feed and water for cows has not been easy amid the ongoing drought in the state.
"It's probably one of the worst ones I've ever seen since I've been involved in the farm," said James Smith, operations manager at Cushman Farms in Franklin.
After a lot less rain this year, he's been forced to make changes to keep the cows fed, with the yield from his corn and grass fields down 25%.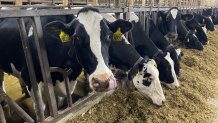 Also, they're now trucking in thousands of gallons of water for the cows each day as well levels have dropped.
"I think there is a significant amount of damage due to the drought not only on the dairy side but the vegetable farms and other aspects of agriculture also," said Smith.
And now, there is some relief.
The federal disaster declaration means eligible farms can receive assistance depending on factors including their amount of production losses.
"I think it's a real positive for agriculture to get this help," said Smith.
In a statement, the state agriculture commissioner explained the toll the drought has taken on farms, writing in part, "The impacts have been widespread throughout the state…"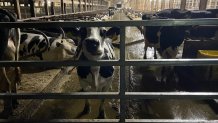 Smith estimates the drought has cost his farm about $50,000. And while he considers applying for disaster assistance, he said the real solution is a change in the forecast.
"We're not set up to irrigate here in Connecticut very well but long-term what we need right now is just rain," said Smith.
Farmers interested in receiving help, including an emergency loan, should contact their local Farm Service Agency office to learn more and to see if they qualify.
"The USDA's disaster declaration will help Connecticut farmers mitigate the losses and additional expenses incurred due to the drought," CT Agriculture Commissioner Bryan P. Hurlburt said. "The impacts have been widespread throughout the state as producers worked to keep fields irrigated, hauled in water when wells went dry, and experienced significant losses of food production and livestock crops."
Last week, the Connecticut Interagency Drought Workgroup increased the drought status to stage 3 for four Connecticut counties: Hartford, New London, Tolland and Windham.
Middlesex and Litchfield counties remain in stage 2 while Fairfield and New Haven counties remain at stage 1.