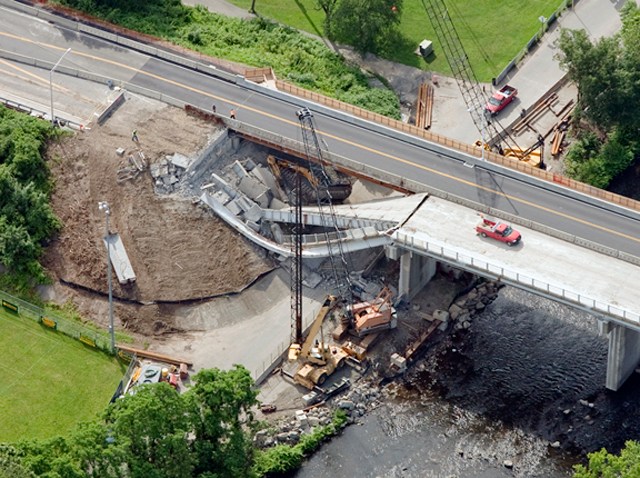 Anthony Mariano had just warned his colleagues to get off a span of bridge when the structure partially collapsed.
Mariano, 59, of Middlebury, warned his colleagues to move because he was concerned about the stability of the bridge and was getting ready to move his own excavator when a section of the Route 63 bridge collapsed at about 7 a.m. on Tuesday, police said.
Department of Transportation spokesman Judd Everhart says Mariano was conscious and talking when he was taken to Waterbury Hospital.
He was moved by Life Star helicopter to Yale-New Haven Hospital.
Mariano works for Southington-based Brunalli Construction, which has been replacing the bridge over the Naugatuck River, known as the Salem River Bridge or Route 63 Bridge, in a $24.5 million project.
Authorities say this section of the bridge was closed to traffic for about a week when the bridge collapsed onto the roadway below, nd it was to be demolished.
Metro-North lines do run below the bridge and buses replaced train service on the Waterbury Branch as police respond. Train service resumed just after 2:30 p.m. Construction on the bridge has been going on for about a year.
State Police Detectives assigned to the Office of State Fire Marshal, the crane inspector and OSHA all have responded to the scene to conduct the investigation into this incident. Both agencies will work with and be assisted by Naugatuck Police and Fire Departments.
State police said the investigation is expected to be lengthy. The entire scene will have to be mapped and measured. The
bridge will also be disassembled and examined as investigators attempt to answer all questions as to exactly what took place to cause this collapse. The entire area beneath the bride will be closed to the public for safety reasons as this investigation continues.
Copyright AP - Associated Press