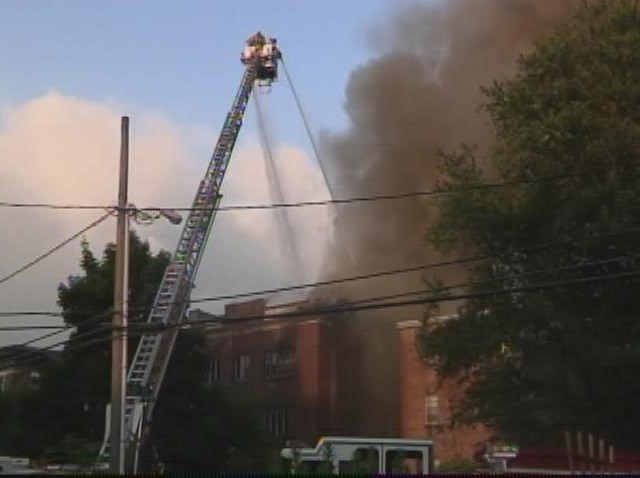 The apartment complex at 47 Evergreen Ave. in Hartford has been condemned after an early morning fire that displaced 22 adults and two children.
The entire City of Hartford Fire Department was called to battle a three-alarm fire at the three-story apartment complex that started around 4:45 a.m.
The first crews to arrive at the scene made sure all 12 units were evacuated and soon got out the building because parts of the roof and building collapsed.
Smoke could be seen from miles away, but residents said they never heard any alarms go off.
"I just shot straight out of bed because I saw the smoke, and I could smell the smoke," Tiffany Cotto said. "No smoke detectors, nothing went off. It's basically, it could have been a death trap."
All the residents were able to get out of the building, unharmed. One couple who lived in the building said they lost all five of their cats.
"We had the neighbors knocking on our door and telling us to get out. We grabbed what we could and I've been out since 5 in the morning," Jacqui Joyner said.
As firefighters battled the fire, several streets were closed.

So far, investigators believe that fire started in the basement, then spread to the third floor through the walls.
Despite the heat, no firefighters were injured. Firefighters are investigating the cause.

"Some of the descriptions that they gave to the investigators are there was some electrical event going on, and the intensity of the heat forced our fire fighters out," Chief Edward Casares Jr. said.

The building was expected to be demolished on Friday.
The American Red Cross is providing temporary shelter and financial assistance for those who were displaced.