A team of high school students from East Lyme are heading to the National Finals after winning a regional science competition at UConn over the weekend.
The U.S. Department of Energy announced that the Connecticut students will compete in the National Science Bowl Finals this spring.
Thousands of middle and high school students participate in the National Science Bowl every year. Students compete in a fast-paced question and answer format where they solve technical problems and answer questions on a range of science disciplines including biology, chemistry, Earth and space sciences, physics and math.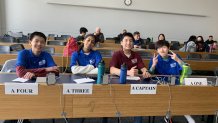 "The National Science Bowl is an extraordinary competition that brings together young minds across America through science and technology," said Asmeret Asefaw Berhe, DOE Office of Science director. "I would like to congratulate the East Lyme High School team as they advance to the National Finals! Good luck to you – our future scientists, visionaries, and leaders!"
The National Finals will be held in Washington, D.C. from April 27 to May 1. The event will consist of several days of science activities and sightseeing, along with the competitions.
The top two middle and high school teams will win $5,000 for their school's math and science departments. Other schools placing in the top 16 will win $1,000 for the school's science department.
East Lyme High School said they're proud of their students.
Since the first competition in 1991, nearly 335,000 students have faced off in the National Finals.