A plane has extensive damage after landing in the woods close to a Boy Scouts camp near Waterbury Airport on Tuesday afternoon.
The Federal Aviation Administration said the plane crashed in Plymouth on its way to Waterbury Airport.
Fire officials said dispatchers received a report of a plane crash around 1 p.m. The Connecticut Airport Authority describes the plane as a single-engine aircraft.
It is believed that someone driving around saw the plane go down and flagged emergency crews to the location. Authorities said it would have taken longer to find the plane had the people not been there to point crews in the right direction.
According to fire officials, the plane suffered extensive damage and is hanging from the trees about a quarter mile into the woods. It is on the campgrounds property.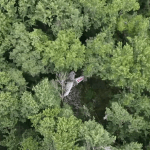 Only the pilot was on board the plane when it went down and he has been released from the hospital after suffering minor injuries.
Crews are currently working on containing a fuel leak. Fire officials said the plane had been carrying about 30 gallons of fuel. The Department of Energy and Environmental Protection is responding.
Authorities are trying to figure out where the plane came from. The FAA are the National Transportation Safety Board are investigating.