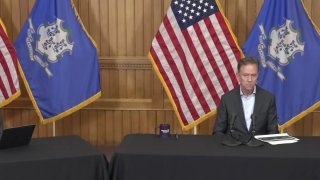 As Connecticut prepares to enter the second stage of reopening businesses that have been closed due to the COVID-19 pandemic, the governor said the infection rate in the state is around 2 percent or less, the lowest we've seen in a long time.
The number of COVID-19 hospitalizations is around two-thirds below whereit was when stage one of the reopening began in May, Gov. Ned Lamont said Tuesday.
As of Monday night, the state has had 44,092 cases of COVID-19, which was up 124; and an additional 13 COVID-19-related deaths, bringing the total to 4,084.
An additional 5,715 tests have been done, the number of hospitalizations was down by nine.
The governor held a briefing at 11:30 a.m. at the Connecticut Science Center will be joining him.
Phase 2 of reopening the state of Connecticut will begin on June 17 as long as COVID hospitalizations and infection rates remain low.
Matt Fleury, president and CEO of the Connecticut Science Center, took part in the briefing and said the center is changing some ways it will operate and that will include an online advance ticketing model.
He said they are making sure they have a stock of PPE and sanitizer and they are looking forward to welcoming members on June 20, a few days after phase 2 begins.
Fleury added that they are minimizing touch points and will have a vigorous cleaning process.
Businesses that are allowed to reopen on June 17 include:
Amusement parks
Hotels
Indoor dining
Indoor museums, zoos and aquariums
Indoor recreation including bowling, movie theaters, etc.
Libraries
Outdoor events
Personal services including nail salons, tattoo parlors, etc.
Sports and fitness facilities including gyms, fitness centers, pools, etc.
As businesses reopen, Lamont said he's hesitant about indoor bars and nightclubs because of the threat of the spread of the virus, but he's also watching what's happening in neighboring states.