A multi-million-dollar project could bring a big economic boost to Connecticut, including hundreds of new jobs.
Great Wolf Lodge is opening a new resort and waterpark adjacent to Foxwoods Resort Casino.
The project is officially underway after a groundbreaking Wednesday, and renderings just released offer a glimpse at the development.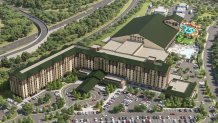 "This is a development that's decades in the making, literally," Rodney Butler, Mashantucket Pequot Tribal Nation chairman, said.
Right now, there is an active construction sight, but Great Wolf Lodge is set to open in spring of 2025.
"We're just super excited, can't wait to get this open," Jason Guyot, Foxwoods Resort Casino president and CEO, said. "It's great addition to the property. Over 500 hotel rooms, 91,000 square-foot waterpark, along with a 61,000 square-foot family entertainment center."
The $300 million-dollar resort is being built in partnership with the Mashantucket Pequot Tribe.
"This is the completion of a vision that my counsel had from back in the '90s, when we first launched Foxwoods, that we were going to be a true destination resort. We always felt like some family component is necessary to make a complete," Butler said.
Butler said the venture will give a big economic boost to the tribal nation and the area.
"When you think about the driver, this is going to be for tourism in Connecticut, bringing people in from all over New England and giving them another reason to visit the state, it's a great opportunity for everybody," Butler said.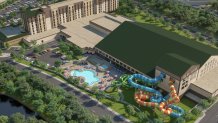 Those behind the project expect it to create nearly 400 construction and trade jobs, as workers take on 1.1 million labor hours over the next two year.
Once it is completed, the lodge will create another 500 permanent jobs. Those include management, engineering, IT, guest services, lifeguards and housekeepers.
Great Wolf Lodge representatives say there will be plenty of attractions.
"Got slides for every age, every thrill level," Jason Lasecki, Great Wolf Resorts vice president of corporate communication, said. "Adventure Park, where we have activities like a ropes course, miniature golf, an arcade, other activities that the families can do together."
Lasecki said a Great Wolf Lodge typically draws half a million visitors per year.
"So that's a half million people coming here to this area," Lasecki said.
Governor Ned Lamont, who attended Wednesday's groundbreaking, believes the development could help Connecticut ride a wave of tourism that swelled during the pandemic.
"Ironically 2021 2022, during the worst of COVID, were our busiest years for visitors. We kept our parks open, kept our beaches open," Lamont said. "And I think we're building off of that momentum right now."
Great Wolf Lodge and its partners announced Wednesday that they are making a $25,000 donation to the Mashantucket Pequot Museum and Research Center. That funding will be put towards sharing the history, stories and traditions of the tribal nation.