Authorities are continuing to search for a man wanted in connection to a deadly attack in Willington earlier this week and now state police said they believe he is responsible for another death in Derby.
The search has now extended into New Jersey and Pennsylvania after a vehicle connected to 23-year-old Peter Manfredonia was found near the border.
Manfredonia was last seen in East Stroudsburg, Penn. and law enforcement agencies are actively looking for him, according to police.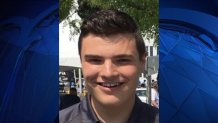 Suspect Vehicle Found in New Jersey Near Pennyslvania Border
Connecticut State Police said a vehicle related to Manfredonia has been found in New Jersey near the Pennsylvania border.
State police said Manfredonia may have been driving a black 2016 Volkswagen Jetta with a Connecticut license plate of AU78524.
The car was found on Interstate 80 in Knowlton Township, Warren County, according to New Jersey State Police.
State police previously said the vehicle had been found in Pennsylvania.
Troopers said there is a bumper sticker on the driver's side of the vehicle that says "Sandy Hook Tribute Victim #26."
Law enforcement agencies in New Jersey and Pennyslvania are now searching for Manfredonia.
Police ID Acquaintance of Suspect Found Dead on Roosevelt Drive in Derby
Derby police said a crime scene connected to the Willington attack has been found on Roosevelt Drive, also known as Route 34.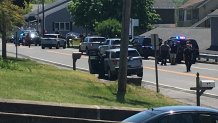 According to state police, an acquaintance of Manfredonia was found dead at the home on Roosevelt Drive.
State police have identified the man as 23-year-old Nicholas J. Eisele. A post mortem exam will be conducted by the Office of the Chief Medical Examiner to determine the cause and manner of death.
It's unclear how the two knew each other.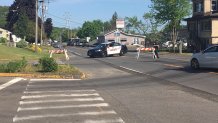 State police said it appears Manfredonia is responsible for the man's death.
Manfredonia took a black 2016 Volkswagen Jetta from the scene in Derby and it has been found in New Jersey at the Pennsylvania border, according to investigators.
Abandoned Vehicle Believed to be Associated With Suspect Found After Crash in Derby
Derby police also said they found a minor one-vehicle crash at the intersection of Hawthorne Avenue and Cullens Hill Road on Sunday morning.
The vehicle was abandoned when officers found it around 6:45 a.m., and the exact time and circumstances of the crash are unknown, according to police.
The vehicle is believed to be associated with Manfredonia, officers added.
Local police and Connecticut State Police troopers are in the area and are using aerial reconnaissance to search for Manfredonia, police said.
Police Investigation Closes State Park in Derby
On Sunday morning, Osbornedale State Park in Derby was closed due to a law enforcement investigation, according to state Department of Energy and Environmental Protection officials.
State police had said they believed Manfredonia was armed with a pistol and long guns in the area of Osbornedale State Park.
Derby and Seymour police departments also joined the search for Manfredonia.
Seymour police said Manfredonia was believed to be on foot in the area of Great Hill Road and Roosevelt Drive, also known as Route 34. He was possibly seen on Tomlinson Road earlier Sunday morning.
Seymour police say they no longer believe Manfredonia is in the area.
According to Seymour police, Manfredonia is wearing a gray t-shirt, gray sweatpants and is carrying some type of bag.
Newtown Police Step Up Police Presence Due to Suspect's Ties to Town
Newtown Police said they have stepped up patrols and have increased manpower in town as an abundance of caution.
"The suspect has very strong ties to Newtown and with the recent sightings of Peter in Derby in the Route 34 area, we want our residents and those around to be aware of this very dangerous individual," Newtown Police said in part in a Facebook post.
Residents are encouraged to be on the lookout for Manfredonia and said no immediate danger exists, but the potential is there. "We have addressed it by bringing in extra manpower to patrol and protect our residents," police added in the Facebook post.
State Police Investigate Home Invasion on Turnpike Road in Willington
Connecticut State Police were also at the scene of what they said was a home invasion on Turnpike Road in Willington on Sunday.
Troopers said they were there for an active investigation in connection with the attack on Friday and ongoing search for Manfredonia.
According to state police, a homeowner was held against his or her will and multiple pistols and long guns, and food were taken from the home. Manfredonia then took the homeowner's truck.
The homeowner was not injured and refused medical treatment, according to state police.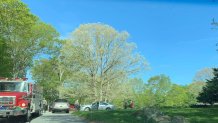 After taking the homeowner's vehicle, state police said he took it to Derby and then abandoned the stolen vehicle near Osbornedale State Park.
The Town of Willington posted on its Facebook page that Turnpike Road is closed from Moose Meadow to Turnpike Road Extension. People are asked to avoid the area.
Attack in Willington Kills 1 Man, Injures Another
Police are looking for Manfredonia after he was seen leaving the scene of the homicide and serious assault on Mirtl Road in Willington on Friday.
State police said they responded to Mirtl Road in Willington just after 9 a.m. Friday, found the two men and started CPR because of the severity of their injuries.
Both men were transported and LifeStar responded for at least one of them, police said.
An "edged weapon" was used, according to police, and they are working to identify what the weapon was.
It appears Manfredonia and the victims did not know each other and investigators called the attacks an isolated incident.
Police identified the deceased victim as Theodore Demers, 62, of Willington. They did not release the identity of the second victim.
Manfredonia was on a red sport-type motorcycle, was wearing a multicolored helmet believed to be red and white, and dark clothing, according to state police. He is considered armed and dangerous.
Suspect Identified as a UConn Student
On Saturday, a UConn spokesperson identified Manfredonia as a student at the school.
Manfredonia is a senior at the University of Connecticut where he studies in the joint School of Engineering/School of Business Management and Engineering for Management program, UConn spokesperson Stephanie Reitz said.
He first enrolled at UConn in fall 2015 and and he was not living on the UConn campus at the time of the incident in Willington or during recent semesters, Reitz said.
The university says it is in contact with Connecticut State Police and they are providing assistance and information that may assist with their investigation.
State Police Investigating All Leads
Connecticut State Police said they are investigating all of the various possible leads they have.
"The Connecticut State Police is working aggressively to bring this individual to justice," state police said in a release.
State police agencies in various states and police in surrounding towns have been notified, state police added.
It's unclear if Manfredonia is alone.
If you see Manfredonia, you are urged not to approach him and should call 911 immediately.