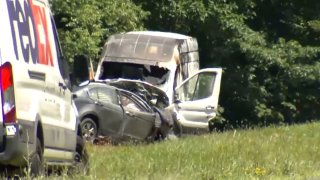 A 61-year-old Easton man has died after a wrong-way crash on Route 25 North in Trumbull Wednesday, according to Connecticut State Police.
The accident was reported at about 11:35 a.m. and officials said the highway was closed for several hours in the area of exit 9 and Route 111. It reopened at about 5:30 p.m.
State police said Shahid Malik, 61, of Easton, was driving a Honda Accord south in the left lane of Route 25 North and collided head-on with a FedEx truck.
Malik was pronounced dead at the scene, police said.
The FedEx driver sustained minor injuries and was transported to Saint Vincent's Hospital, police said.
"Our thoughts and condolences are with all those affected by this tragic incident. We are cooperating fully with the authorities as they conduct their investigation," FedEx said in a statement.
State police are investigating the crash.