We're tracking a line of showers and thunderstorms in New York that could impact Connecticut later tonight.
Most of the evening is dry with cloudy skies and moderate humidity values.
The thunderstorm threat doesn't arrive in Connecticut until after 10 p.m.
First Alert Future Radar shows the line of storms entering Litchfield and Fairfield counties just before 11 p.m.
The thunderstorm threat is highest in western Connecticut where instability values are the highest.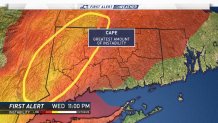 The storms will slowly fizzle out as they head into eastern Connecticut where the airmass is much more stable.
All of the showers, thunderstorms, and cloud cover will exit the state late tonight setting us up for some beautiful weather tomorrow.