The UConn women's basketball team made history last night by winning their fourth title in a row, and their 11th overall, and today is a day of celebration in Connecticut.
Dunkin' Donuts is celebrating by offering a free medium coffee today with any purchase through the mobile app.
In Storrs, the 2016 NCAA national champions were welcomed back into their home state from Indiana.
The team would have taken a victory lap around campus to celebrate their 82-51 win over Syracuse last night, then head to a championship rally at Gampel Pavilion, but the victory lap has been canceled because of cold weather.
For the rally, the doors to Gampel Pavilion opened at 4:30 p.m., with the UConn band and cheerleaders performing. The rally began around 5:30 p.m.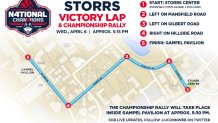 Follow the UConn Women's Hoops Twitter account for updates.
[[315292801,C]]