Big weather changes are in store for the holiday weekend. We are tracking the return of some wintry precipitation to the state, which may impact your holiday plans.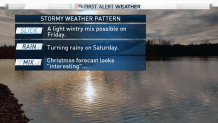 Before that we will have a quiet day to close out fall on Wednesday, with a partly cloudy sky and breezy conditions. Thursday will also be a tranquil, but cold day with high temperatures only rising into the lower 30s.
Our first chance for wintry weather arrives on Friday. An area of low pressure moving to our south will cause precipitation to overspread the state during the day. It is still uncertain as to exactly when it will start, but sometime during the midday hours seems likely.
There will be just enough cold air in place initially that the precipitation may start as snow for most, before transitioning over to a wintry mix, and eventually rain during the overnight hours on Friday. A light accumulation of snow is possible before any changeover later on Friday.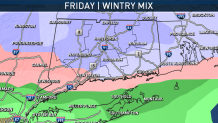 This system on Friday then will lift to our north on Saturday, allowing all areas to changeover to plain rain. We'll have periods of rain, heavy at times throughout the entire day. Temperatures will start the day in the lower 30s, before rising throughout the day into the lower 50s. The high temperature for the day will likely occur close to midnight Saturday night.
In the wake of Saturday's rain, Sunday will be a quiet day for Christmas Eve. It will be a dry day for any plans you have, with a partly cloudy sky and high temperatures in the lower 40s. The next system arrives for Christmas Day on Monday. Rain, snow, and a wintry mix are all possible on Christmas Day depending upon where you live in Connecticut, and just how close to the coast this storm comes.
There might be just enough cold air in place to bring some snow or a wintry mix to parts of the state, especially inland areas. However it is still too soon to pinpoint who will see snow or rain.
Stay tuned to the First Alert CT weather team for updates as the forecast evolves this week!