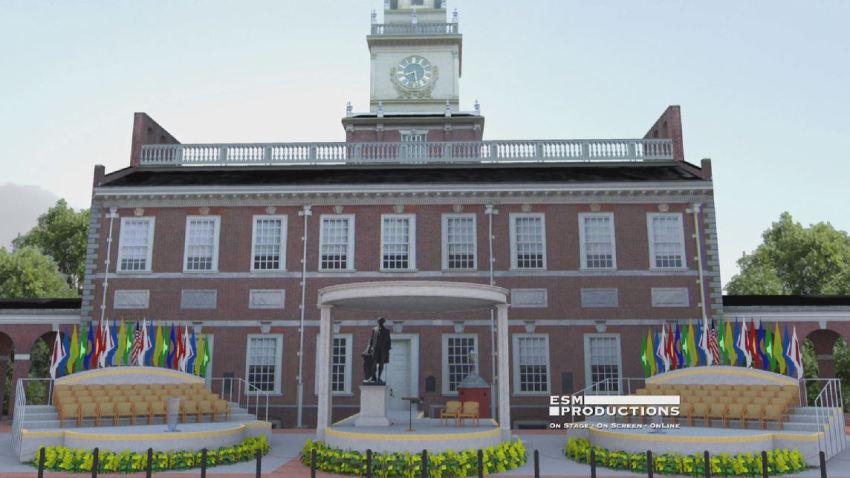 Expect much symbolism and excitement for Pope Francis' very first trip to the U.S. — just don't expect to see anything too lavish.
Hailed for his unextravagant approach to the papacy, Francis won't be surrounded by gilded decorations when he preaches to the masses at several stops on his East Coast trip, which culminates with the World Meeting of Families in Philadelphia next weekend.
On stage with Francis at that meeting's main event, a Mass outside Independence Hall, will be just two chairs made by local craftsmen and a simple, though very historic, wooden lectern, said Fred Stein, event organizer for the World Meeting of Families.
"They're simple in nature and that reflects Pope Francis' feelings," Stein said.
[NATL] Francis' Papacy in Photos
It's not the only simple part of the pontiff's visit. Take a look backstage of Pope Francis' very first visit to the U.S. for a preview of what you'll see when you're watching at his stops in Washington, New York and Philadelphia.
WASHINGTON, D.C.
Student-designed altar: For his first public Mass in the U.S., the Basilica of the National Shrine of the Immaculate Conception, Francis will sit on a temporary altar designed by three students.
The architecture and planning students from Catholic University of America won a competition with their design, whose arch mimics the Basilica's Romanesque-Byzantine architecture. It was delivered in late August. Learn more >>
The Basilica's symbolism: The cathedral itself carries its own symbolism: It's the largest Catholic church in North America, and in it, the first pope from the Americas will in Spanish canonize Junipero Serra, who brought the faith to California. The event fits into Francis' larger theme for this trip, immigration.
Francis' Mass will highlight Hispanics' contributions to the U.S. and the church, according to Cardinal Donald Wuerl, the archbishop of Washington. Learn more >>
[NATL-PHI] Popes in America: 50 Years of Papal Visits to the U.S.
NEW YORK CITY
Laborer-built chair: Though he'll be in the "World's Greatest Arena," Francis won't be seated at a grand throne for his Friday, Sept. 25, Mass at Madison Square Garden. Instead, he'll take his seat at a plain wooden chair made in a New York City suburb by immigrants and day laborers.
"It's more than a chair, it's a spiritual connection we have," said Hector Rojas of Don Bosco Workers in Port Chester, one of the carpenters who built the chair in a garage.
"The Holy Father likes things simple," said Cardinal Timothy Dolan, archbishop of New York. "He doesn't like a lot of expense." Learn more >>
Broadway-style processional: When Francis enters the arena, he'll be accompanied by music that's rung out for two different popes' visits to New York.
Broadway composer Michael Valenti's song "Processional for a Pontiff," to be played at the Mass, was written for John Paull II's visit to Central Park in 1995. Valenti's music was also used for Pope Benedict XVI's visit seven years ago.
"Imagine three popes using your music and to be alive for it," he said. Learn more >>
PHILADELPHIA
The Pope's visit to Philadelphia will be by far the largest on this this tour, closing down much of central Philly to outside vehicles and requiring 40 Jumbotrons for the more than 1 million people expected to attend the World Meeting of Families.
Gettysburg Lectern: When Pope Francis speaks at Independence Mall, his printed remarks will rest on the same lectern that once held one of the most iconic speeches ever given: Abraham Lincoln's Gettysburg Address.
The Nov. 19, 1863, speech was given to dedicate a cemetery for soldiers killed fighting to end slavery, and many see similiarities between Lincoln's message and Francis' expected speech on inclusiveness of the immigrants and the poor.
The lectern's "simple beauty and humble role in one of American history's most important moments reflects, in many ways, Pope Francis' own world view," said Robert Ciaruffoli, president of the World Meeting of Families. Learn more >>
Nuns' Communion Bread: The Poor Clares, cloistered nuns from a Pennsylvania monastary, spent months baking the wafers that will be used for communion at the pope's public Mass.
"It is a very special work for us, and we take very good care — extra care — with how we make them," said Sister Anne Bartol. Learn more>>
Knights' Programs: The programs the faithful will be reading when the pope gives Mass in downtown Philadelphia will be imported – all the way from New Haven, where the Knights of Columbus donated about $100,000 worth of materials and labor to print up the 24-page booklets. Learn more>>
The Liberty Bell: Looking out on Independence Mall when he gives Mass, Francis will be able to see the Liberty Bell.
Long associated with the War of Independence, the bell was actually a gift to the colony of Pennsylvania before the war even started, and, fittingly for the pope, represented religious freedom, said Fred Stein, the World Meeting of Families organizer.
"Whatever he says standing at the simple wooden lectern rings out, figuratively and literally," he said.
[NATL] Five Iconic Photos from Francis' Papacy
The musical acts playing in the hours before Francis speaks will have their own signfiicance. From a Ukrainian singer to Vietnamese fan dancers, the acts come from various communities around the world that reflect the immigrant communities that settled in Philadelphia, "a city of neighbors," Stein added.