Strong storms moved through Connecticut Wednesday night, bringing thunder, lightning and even hail to some areas.
Severe thunderstorm warnings were issued for parts of Tolland, Litchfield and Windham counties at different periods in the night but have since expired.
By this evening, there is a rising chance of showers and thunderstorms.
The biggest threat looks to be between 6 p.m. and 11 p.m.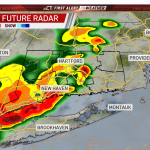 At this point, damaging winds are the biggest concern. Small hail, lightning and even an isolated tornado are possible.
Tomorrow will be sunny with highs in the upper 70s.
There's another chance for rain on Friday where evening showers are possible. Highs will be in the low 60s.