While most of the state will end up dry today, August 1, a few towns will see a spot shower by this afternoon.
High pressure brought abundant sunshine on Saturday. That area of high pressure moves off of the coast and a weakening area of low pressure will move through the northeast later today. As the low passes, we'll see clouds increase and a few isolated showers and possibly a thunderstorm in western CT.
The first full week of August will start off dry and end with some showers toward Thursday and Friday.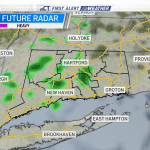 Weather Stories