Nearly 17,000 power outages are reported across Connecticut as heavy rain and gusty winds move through the state. Eversource is reporting just under 17,000 power outages and United Illuminating is reporting approximately 150 outages.
Several wind advisories were issued ahead of the storm.
Wind advisories have been issued for Litchfield and, Middlesex counties until 10 p.m. New Haven and New London counties are under a wind advisory until 7 p.m. Hartford, Tolland and Windham's counties are under a wind advisory until 1 a.m. on Tuesday.
The rain will continue into the evening.
One to two and a half inches of rain are likely and wind gusts of 40 to 50 miles per hour were expected. Some higher gusts are possible at the shore.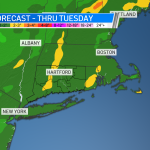 Power Outages Reported
Eversource reported nearly 17,000 outages as of 9:15 p.m., up from around 6,000 power outages as of 2 p.m.
The majority of the outages are reported in Old Lyme, East Lyme, Waterford, Westbrook and South Windsor.
Before the storms, Eversource said crews were preparing for possible power line and tree damage as windy conditions impact the state.
On Monday afternoon, the company said hundreds of crews are responding to outages as long as it is safe to do so.
Anyone who comes across a downed line should call 911 and avoid driving over wires that are down.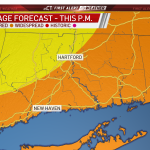 You can report an outage by calling 800-286-2000, visiting eversource.com, the mobile app or by texting "OUT" to 23129.
Damage Reports
In Hartford, the brick facade of a building on Maple Avenue fell to the street. Hartford police said there were no injuries.
In Waterford, there are downed primary wires at 212 great Neck Rd., according to the town's first selectman.
Calls have been made to Eversource to restore power in the area.
In Tolland, crews responded to Tolland Stage Road after wires came down and the road is closed.
CT Travel Smart is reporting some road closures due to downed trees and wires.
Route 87 is closed at Whitney Road in Columbia because of a tree down in wires.
Route 16 in Colchester is closed at Coco Drive due to a tree down in wires.
South Windsor Police tweeted that the 911 dispatch center is being inundated with calls because of the storm. They are asking people to call 911 only in the case of an emergency.
Get the latest on the storm here.
Stories from NBCLX
LX, or Local X stands, for the exponential possibilities of storytelling in our communities.