A large area of high pressure promises to turn our cool weather into a milder stretch of weather for the upcoming week.
The average highs for the week ahead drop into the lower 50s and our forecast is for temperatures to rise into the lower 60s.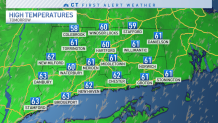 Along with high pressure, plenty of sunshine and a dry stretch of weather will last much of next week. Our next rain chance arrives by Friday into next weekend.