NBC Connecticut meteorologists continue to track Hurricane Ian. The system intensified back into hurricane status Thursday before hitting South Carolina Friday.
The storm has ripped apart piers and flooding streets after causing catastrophic damage in Florida, trapping thousands in their homes and leaving at least 21 people dead.
The system will start to break apart as it moves over land. Some of the precipitation from the system will pivot into Connecticut this weekend.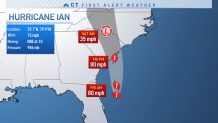 The clouds will increase on Friday and it will be a cooler day, with temperatures in the mid-60s.
We are forecasting periods of rain Saturday morning and afternoon. It appears the most rainfall will take place along the shoreline with more isolated showers along the Massachusetts border.
In addition to the rainfall, winds are also expected to pick up as we head into Sunday. Winds could gust to 40 mph by Sunday afternoon.
Stay with the NBC Connecticut First Alert Weather Team for updates.