Thousands of power outages are reported across Connecticut as a result of Sunday night's storms and some schools were on a two-hour delay on Monday while others were closed.
As of 2:50 p.m., Eversource is reporting over 10,000 power outages. Bridgewater, Darien and Roxbury are among the hardest-hit areas. At one point, Eversource reported more than 36,000 power outages.
Eversource said as of 9 a.m., crews had restored power to approximately 20,000 customers since the storm began.
United Illuminating is reporting nearly 150 outages on Monday afternoon. Right after the storm on Sunday night, UI reported roughly 4,800 outages.
Attorney General Criticizes Eversource's Outage Reporting System
Attorney General William Tong is criticizing Eversource's automated outage reporting system after problems during Sunday night's storm.
"The Eversource automated outage reporting system has been riddled with errors and dysfunction since it was first developed. We are scrutinizing these unacceptable failures as part of the open Isaias docket before PURA. This is a ratepayer funded system, and ratepayers deserve a system that works," Tong said in a statement.
"The communications system was designed to address massive shortcomings in communications following the 2011 and 2012 storms. First responders and municipalities rely on these systems to protect the public during outages. There is simply no excuse for these continued failures," he added.
Eversource said intermittent issues related to the outage reporting system have been resolved. Customers are encouraged to report any outage online or by calling 800-286-2000.
Multiple school districts had delays or were closed on Monday due to damage and power outages from Sunday night's storm.
Litchfield Public Schools closed due to continued power outages and internet issues. At this time, the district said there is no restoration time.
The district previously announced a two-hour delay before closing schools around 7:30 a.m.
Bethel Public Schools have a two-hour delay on Monday because of the number of trees down blocking roads in town.
"We need a two-hour delay to determine power outages for our distance learners and safe bus routes because wires may be down, causing unsafe situations," the district said.
New Canaan Country Day School in New Canaan has a two-hour delay.
There's also a two-hour delay for students at Newtown Public Schools and at Housatonic Valley Waldorf School in Newtown.
Cities and Towns Report Storm Damage
Sunday night's storm brought down the Holiday Tree on the New Haven Green. Many of the branches are cracked and some of the lights are damaged. City workers set up cones around the tree as a precaution until the Dept. of Public Works can decide what the next steps are. City officials said they would evaluate it today to see if the tree can be put back up, but then said the the tree is damaged and the city is working on getting a replacement tree.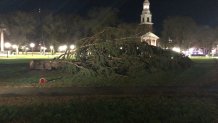 Multiple state parks are also closed due to downed trees and damage.
Beardsley Park in Bridgeport is closed due to debris and downed power lines. "Last night's storm caused tree debris and branches that need to be cleared. In addition to the tree debris, there are power lines down near the Main bathhouse and a downed tree is also obstructing the road," city officials said.
Sherwood Island State Park in Westport is also closed because of storm damage.
Eversource crews and firefighters in Avon rescued a person trapped in a car that was snagged by wires on Sunday night. The incident happened on Lovely Street. Crews at the scene told us the person who was trapped is doing okay.
Many lights were out on Route 44 in Avon, one of the main roads in town.
Sunday's storm brought down several trees and power lines across the state.
Bethlehem: Route 132 at Woodland Road - tree down in wires
Durham: Route 17 at School House Road - tree down in the road
Southington: Route 10 at Cheshire Road & Norton Street - tree and wires down in road
Stafford: Route 190 at Crooked S Road - tree in the roadway
Watertown: Route 6 at Guernseytown Road - downed tree with wires.
Rain was coming down hard in West Hartford during Sunday night's storm.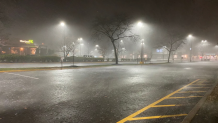 There was a Tornado Warning in effect for parts of Fairfield County. There were also several Severe Thunderstorm Warnings in effect throughout the state. All have since expired.
There were reports of strong wind gusts of up to 76 mph in Greenwich. Bridgeport saw wind gusts of up to 61 mph.
A Severe Thunderstorm Watch was issued for the entire state through 2 a.m. It has since expired.
The peak of the highest wind gusts arrived between 8 and 11 p.m.