It's about time! Finally, a slow-moving storm has the potential to drop heavy rain across southern New England. The storm is still about 5 days out so there could be any number of changes between now and Monday. That said, some of the signals are impressive.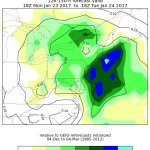 One signal I'm looking at is the GFS Ensemble M-Climate which is maxed out over eastern Connecticut for 24-hour precipitation totals. M-Climate looks at how this forecast compares to previous forecasts from 1985-2012. Basically every time period has been reforecast using the GFS ensembles and the current mean precipitation off the model is compared to those old forecasts. The "max" indicates that the current GFS ensemble forecast for rainfall is higher than any of those previous forecasts for a 3-month wind centered on January 24th. Impressive!
This plume diagram of the GFS ensemble for Providence, RI shows the huge values of precipitation being forecast for the time of year - nearly 2.5" of liquid. That is a big signal for a mean of 21 different ensemble members 5 days out.
There are a few things to watch here:
1) Will this trend any colder? There's an awfully cold high pressure to the north of us over Quebec. While right now this is insufficient to produce snow in Connecticut it's getting awfully close just north of us in the elevated terrain. We will see a prolonged onshore flow so it will be tough with this kind of setup to get much snow of consequence in the valley or on the shoreline but it may be worth watching for the hills - particularly just north of us. If you're a snow lover in Hartford or New Haven I wouldn't give this storm much of a second thought.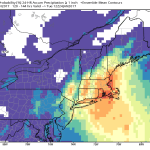 2) How heavy will the rain be? Why the signal is there for excessive rainfall the really heavy stuff is always going to be dictated by small scale processes that are difficult to pin down 24 hours out - nevermind 5 days out! That said, the GFS ensembles and the Euro ensembles have impressive probabilities for heavy rainfall - the Euro has odds of >1" of rain between 50% and 80% across Connecticut. Additionally, the models are keying in on a few possible areas of heaviest rain - the east slopes of the Litchfield Hills (makes sense with upslope flow off an easterly wind) and eastern Connecticut through Rhode Island and Southeast Massachusetts which also makes sense given the setup.
3) Damaging wind threat. With a high to the north and an unusually strong and slow moving low to the south we could see some gusty winds for a period of time. This is very uncertain but is worth watching particularly along the shoreline.