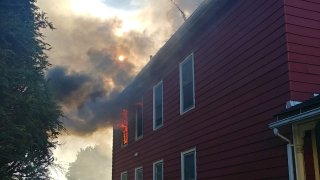 A home in Willimantic is heavily damaged after a fire on Sunday morning and the cause remains under investigation.
Firefighters were called to a home on Jackson Street just after 9 a.m. after getting a report of smoke coming from the upper floors.
When crews arrived, it was elevated to a second alarm fire and then later was upgraded to a third alarm because of heavy fire conditions, according to Willimantic Fire Chief Marc Scrivener.
Fire officials said the fire was very difficult to fight.
"Room of origin...fire broke through wall, ran up into the attic. It's very labor intensive, a very difficult fire to fight. The goal is to remove plaster wall and ceilings before fire gets beyond their ability," Scrivener said.
There were occupants of the home were inside during the fire, according to investigators.
"They were inside at the time. Firefighters had to ask them to leave the residence. We did have one that the Willimantic Police Department had to evacuate from the basement," Scrivener added.
Five people are displaced and the Red Cross is helping them to relocate.
The cause and origin of the fire remain under investigation.
According to firefighters, the 3-alarm structure fire was on Jackson Street between Summit Street and Prospect Street.
Residents are asked to avoid the area while crews are working.
It's unclear what may have started the fire.
There's no word on if anyone is injured.