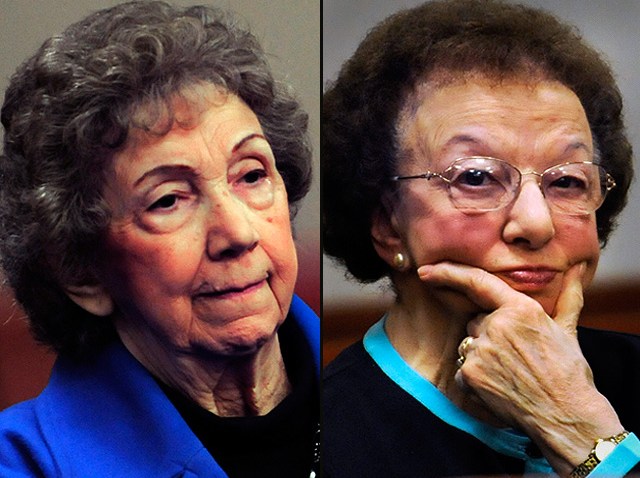 The fight for two elderly Connecticut sisters over $500,000 is over.
A judge has decided that Rose Bakaysa, 87, can keep her winnings and does not have to share with her sister, Theresa Sokaitis, 84, the Hartford Courant reports.
The trial lasted for just one day in March. Superior Court Judge Cynthia K. Swienton heard the case and it was up to her to decide whether Theresa was entitled to half of the $500,000 winnings.
The court decision begins with lyrics to Irving Berlin's song "Sisters."
"Sisters, sisters, there were never such devoted sister." And then leads right into what ended that devotion -- a $500,000 Powerball ticket.
The sisters had a written, notarized contract that they would split the take should they win. But, then the sisters had a tiff. Unfortunately, that happened about a year before Bakaysa and her brother won a $500,000 Powerball jackpot in June 2005.
It was over a $250 loan that Sokaitis gave to Bakaysa in 2004. Bakaysa was in a rehabilitation facility, recovering from a health problem.
What is not disputed is that there had been a contract. The crux of the case was whether they were partners when the win happened.
"The crucial issue is what occurred in that conversation in June 2004, when Rose called Terry to tell her she wanted repayment of her $250. The evidence was clear that over the years, Rose has helped Terry financially, and at that point, Rose had had enough."
When Bakaysa, who lives Plainville, took the stand, she traced the falling out to a phone call, the Courant reports.
"(Terry) was hollering on the phone, 'I don't want to be your partner anymore,'" Bakaysa testified. Rose said "OK."
Afterward, Bakaysa said she called her brother and he agreed to be her gambling partner. She ripped up the contract.
Sokaitis says she never told her sister that she wanted to end the partnership.
"I told her I felt I deserved a share of the money and she told me I wasn't going to get a dime," Sokaitis testified. "I said, 'I have a contract.' She said, 'I tore mine up.' I said, 'I didn't."'
Sokaitis sued Bakaysa in 2005, claiming breach of contract.
Another wrinkle is that the brother testified that he actually bought the Powerball ticket and became Bakaysa's gambling partner after his sisters' tiff.
"I love my sister," Sokaitis told the judge. "There was no reason for us not to be partners."
About the $250 that started the mess? Bakaysa eventually sent Sokaitis a check for $250.