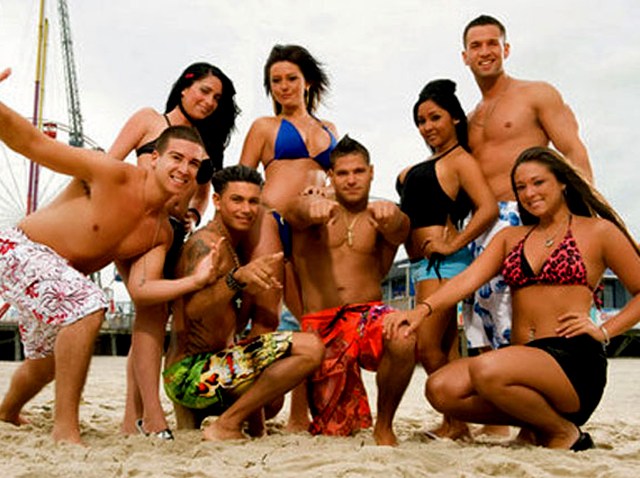 Quinnipiac University recently took a poll to find out whether New York or New Jersey is to blame for the show's famous bad behavior.
The Connecticut school's poll shows that many New Jersey residents resent the fist pumping, GTL'ing, shirt before the shirt wearing reality stars too. Many natives feel the hit show gives their state a bad reputation.
Despite the show's title, many of the cast members are actually from the New York area, which has spurred an ongoing debate over which state is to blame for the antics of the cast members; New Jersey or New York?
According to the poll, about 35 percent of Jersey residents, including Governor Christopher Christie, feel that the Empire State is to blame for the casts' bad behavior.
But New York Governor David Paterson disagrees and he's got 19 percent of New Jersey backing him up.
Paterson feels the real culprit behind the rotten behavior is the Jersey Shore environment itself! The rest of the state, roughly 46 percent, is undecided.
It seems the issue over getting a bad rap has brought New Jersey together -- Republicans, Democrats, men and women -- with the state having a 51 – 11 percent margin of those polled all voting unfavorable for America's favorite tanned TV stars.
Overall, the Garden State's message is clear, "The Jersey Shore" just makes their state look bad, plain and simple.
And Quinnipiac University Polling Institute director Maurice Carroll put it best: "New Jerseyans to New York: Keep your low-lifes at home and away from our seashore".
Do you agree with the polls? To see where you fall with this love/hate relationship check the poll.