Signals remain strong for an impressive coastal storm Monday and Tuesday off the coast of New England. A decent high pressure to the north and a strong low pressure to the south will create a substantial pressure gradient across the region.
It's no surprise that with a pressure gradient like this the low level zonal wind anomalies are quite substantial - exceeding -4 standard deviations! With such large anomalies there are all sorts of hazards that we'll have to watch for including excessive precipitation and damaging wind.
The questions I posed yesterday about this storm still remain. The most intriguing possibility is a trend to a slightly colder storm. Even with a very mild antecedent air mass this storm may just be able to threat the needle and produce some snow in parts of southern New England - especially in the elevated interior. Sleet remains quite likely for a period of time as well across the state.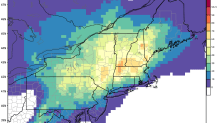 The European Ensembles show decent odds (>50%) of more than 3" of snow in Litchfield County later Monday and Tuesday. While heavy snow is very unlikely in the valley and shoreline I can't rule out heavy snow in the interior hills.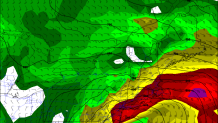 With such a strong low level jet (winds near hurricane force a couple thousand feet above our heads) we'll also have to be concerned about damaging winds along the shoreline. This won't be a major issue (i.e. it happens a couple times per winter) but I could forsee scattered power outages and wind gusts up to 60 mph.
This should be an interesting storm!