A new year in Connecticut means more money for minimum wage workers, access to more advanced breast cancer screenings, changes to job applications and more.
"Ban the Box" Act (Fair Chance Employment Act)
Connecticut will become the ninth state to "ban the box" which prohibits employers from asking prospective employees about prior arrests, criminal charges or convictions on an initial employment application.
Employers will be required to include a notice on job applications that states that prospective employees are required to disclose these matters.
An employer may only ask about someone's criminal history if they are required to do so under state or federal law or the position requires the employer to obtain a security or fidelity bond.
The act follows similar steps taken by Hawaii, Illinois, Massachusetts, Minnesota, New Jersey, Oregon, Rhode Island and Vermont. While Connecticut employers can't ask about criminal history on an "initial employment application", some other states don't allow employers to ask until an interview or job offer is made.
Coverage for Tomosynthesis for Breast Cancer Screens
Certain state health insurance policies will start to cover breast tomosynthesis, a type of three-dimensional mammogram, on Jan. 1.
The new law requires policies to cover baseline mammograms for women between the ages of 35 and 40, and annual mammograms for women older than 40, which may include 3-D mammograms at the beneficiary's request.
The U.S. Food and Drug Administration approved digital breast tomosynthesis devices in 2015, however, access is currently limited, Breastcancer.org reports.
A report from 2010 says the added percision of a 3-D mammogram would "allow visualization (detection) and better characterization of non-calcified lesions."
Minimum Wage Increases
In 2015, Connecticut was among 13 states that vowed to raise the minimum wage to $15 an hour.
The hike calls for the increase to be phased in because the new eventual minimum was more than a 100 percent increase over the previous $7.25 federal minimum wage at the time.
Starting Jan. 1, 2017, the new state minimum wage will be $10.10, in an effort to eventually be $15 in the future.
No Prior Insurance Authorization For Anti-Opioid Drugs
The fight against the opioid epidemic: a new law which prohibits health carriers from imposing a prior authorization requirement for Narcan, or any similar overdose treatment drugs takes effect in J
New Access Symbol for People With Disabilities
All new constructed and renovated buildings will have a new access symbol for people with disabilities.
The modified access symbol will replace the international access symbol with a "dynamic character leaning forward with a sense of movement".
In addition to new buildings and renovations, the state will replace the international access symbol on "handicapped" and "reserved" parking signs.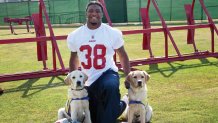 For a full list of new laws in Connecticut, click here.