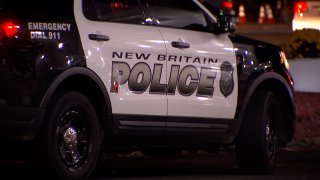 Four teens were taken into custody after crashing a stolen vehicle into a police cruiser in New Britain early Tuesday morning, according to police.
Officers saw a 2014 Honda Civic that had been stolen from Stratford around 1:50 a.m. and tried to stop it.
The driver sped off toward the intersection of Martin Luther King Drive and Stanley streets and hit the driver side of a New Britain police cruiser, according to police.
The teens took off on foot. Police caught three of them a short time later. The driver of the car was identified and taken into custody later, police said.
The 16-year-old driver was issued a summons for third-degree larceny, reckless driving, engaging police in pursuit, evading responsibility, interfering with police, and operating without a license. He was released to his mother.
Police said the driver has five prior arrests.
The three passengers, a 16-year-old, a 15-year-old, and a 13-year-old were all issued summonses and released to their parents.
No serious injuries were reported.