Another strong Arctic cold front to our north is making its way into Connecticut. Strong winds and snow squalls are expected as the front moves in tonight. So far winds have behaved today but as the front approaches the wind will pick up and the snow will redevelop. As of 7 p.m. the Arctic front stretched from southern New Hampshire into Vermont and near Albany, NY.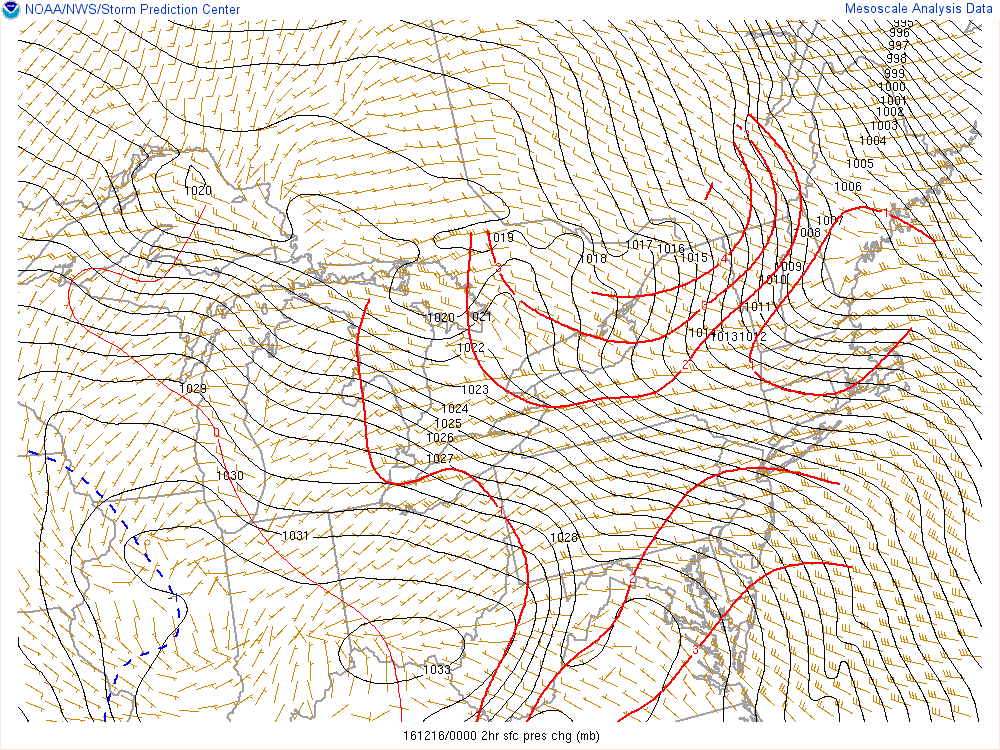 The concern for tonight is the wind that will pick up as the front moves in. The atmosphere will be very well mixed from the ground up to about 7,000 feet above our heads where the winds are near hurricane force! While 65 knots of wind won't make it down to the ground - even 75 percent of this would produce some powerful gusts and scattered power outages.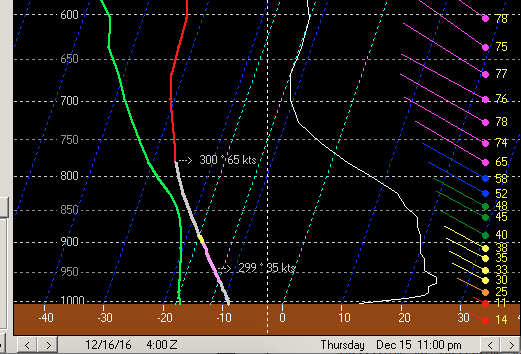 So far the winds behind the front haven't been too bad - the highest gust I've seen in Vermont is 40 knots in Barre-Montpelier. However, given the strength of the winds at the top of the mixed layer and the front and sharp pressure rises behind it moving in the threat for 60 mph winds remains.
We'll also have to deal with snow squalls as a long and impressive lake effect snow plume - which stretches from Lake Superior to Lake Huron to Lake Ontario teams up with the Arctic front and approaches from the north. A coating to an inch and a brief period of heavy snow is a good bet in at least some areas.
Tomorrow morning will be cold but not exceedingly so. Temperatures will generally be above zero and wind chills around -15F for many inland areas. While this is pretty cold for sure it's something we deal with a few times a winter - at least!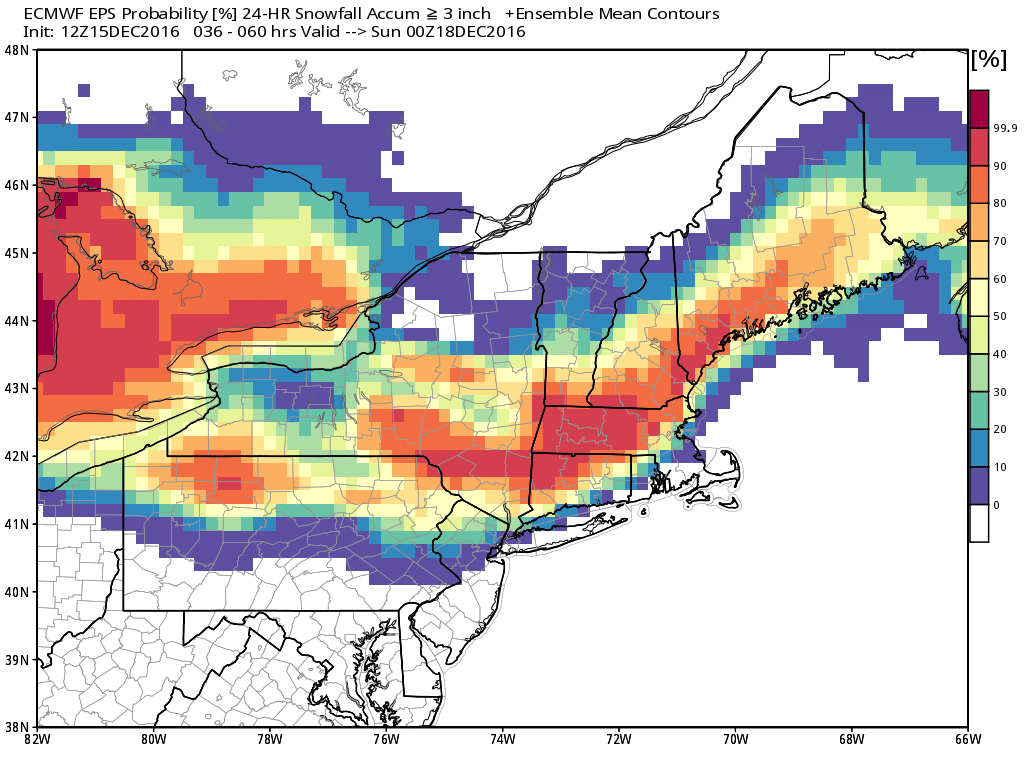 After tonight our focus shifts to our Saturday winter storm. Our computer models have been in great agreement for a couple days with this storm with a pretty consistent solution since Monday. Right now our European Ensemble model shows a 90% chance of more than 3" of snow along and northwest of I-84. Around New London not one of the 51 ensemble member delivers 3" of snow!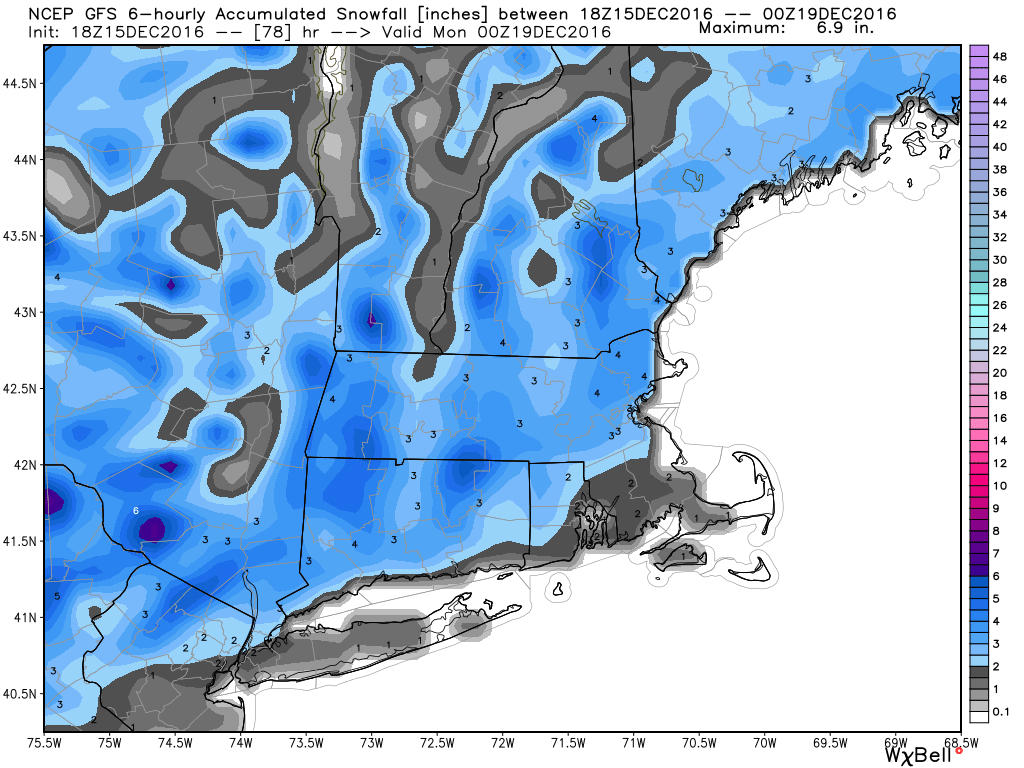 The GFS solution is a bit less robust with snowfall maxing out at 3" or 4" across the state.
One thing that is still to be figured out is how fast low level warmth streams in from the south. Some of our super high resolution models - like the new 3km NAM - keeps an impressive cold tuck over southern New England on Saturday as winds out of the north develop with a weak low tracking over southeastern Massachusetts.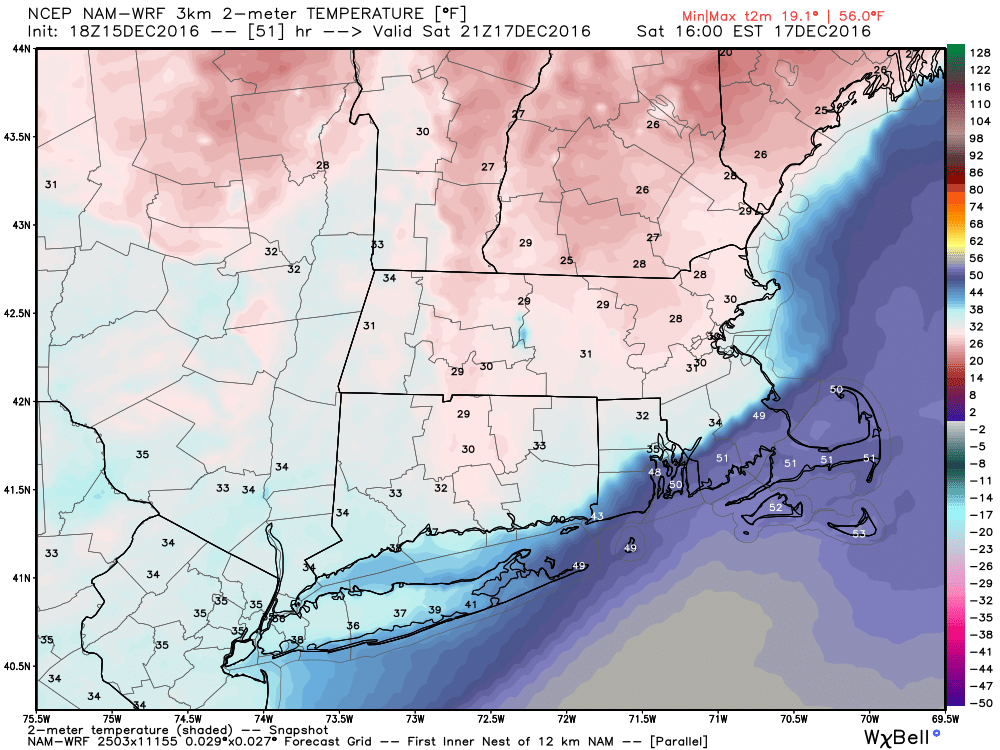 This would result in a period of icy travel after the snow ends Saturday afternoon across most of Connecticut with temperatures struggling above 32F. The high-res NAM is the only model to show this so right now it's worth watching but is not the most likely scenario.
At this points we're expecting 4"-6" of snow north of I-84, 2"-4" from Hartford south to New Haven, and 1"-2" around New London. The heaviest of the snow will be right around daybreak with a transition to ice (freezing rain) and rain along the shoreline. Should be sloppy!