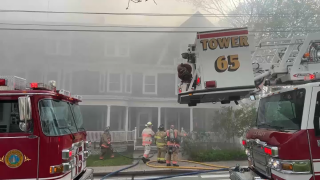 At least eight people have been displaced after a fire at a multi-family home in Groton Thursday night.
The 3-alarm blaze damaged four apartments in the building, according to fire officials.
The blaze caused smoky conditions in the area of Thames Street. Heavy smoke was seen coming from the second floor.
Crews were at the scene for approximately three hours putting out the fire.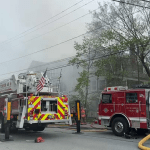 Two residents were taken to the hospital for smoke inhalation. It's unknown how they're doing at this time.
Not too far away, a firefighter was taken to the hospital after battling a fire at the historic Lighthouse Inn.
The Red Cross is helping all the families displaced.
It's unknown what caused the fire at this time.