State police are investigating a shooting after a victim was found on Interstate 84 near the Waterbury/Cheshire town line and they are searching for a man believed to be armed and dangerous in the area of Rogers Orchards on Meriden-Waterbury Turnpike in Southington.
Wolcott police are asking people in the area to remain in their homes unless it is necessary to leave.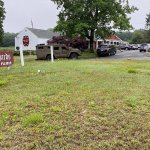 State police said troopers were dispatched to the area of I-84 West, at exit 26 near the Waterbury/Cheshire town line, at 2:13 a.m. to investigate a shooting, where they found a man who had been shot.
The victim was taken to an area hospital. Injuries were sustained, but the extent of the injuries are not known.
Detectives from the Connecticut State Police - Western District Major Crimes Squad were requested to respond to the scene.
State police said they are working with police in Southington, Wolcott and Waterbury.
The man they are looking for is 31 years old and is believed to have dark facial hair, possibly a beard.
If he is seen in the area, call 911 and do not approach. Police said anyone with information could also call 203-267-2240.