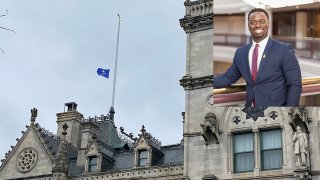 Five Middletown schools will be closed on Feb. 28 when a special election will be held to fill Rep. Quentin Williams' seat in the 100th Assembly District.
The special election is being held to fill Williams' seat in the House of Representatives after he was tragically killed in a car crash last month.
Williams was killed in a crash early on the morning of Jan. 5, hours after he was sworn in for what would have been his third term representing parts of Middletown.
State police said the driver of the other vehicle was going the wrong way, heading north on Route 9 South in Cromwell just before 1 a.m. when the crash happened.
The schools that will be closed for elections are Bielefield Elementary School, Lawrence Elementary School, Macdonough Elementary School, Spencer Elementary School and Wesley Elementary School.
Middletown school officials said the day will be treated like a snow day, making June 12 the final day of classes.
All other schools in town will have a regularly scheduled day.
The Middlesex YMCA is offering a vacation day program to families impacted by the closing. For YMCA members, it'll cost $60 and non-members will have to pay $65. For more information about the program, you can contact Amy Cardoza by calling 860-343-6218 or emailing acardoza@midymca.org.