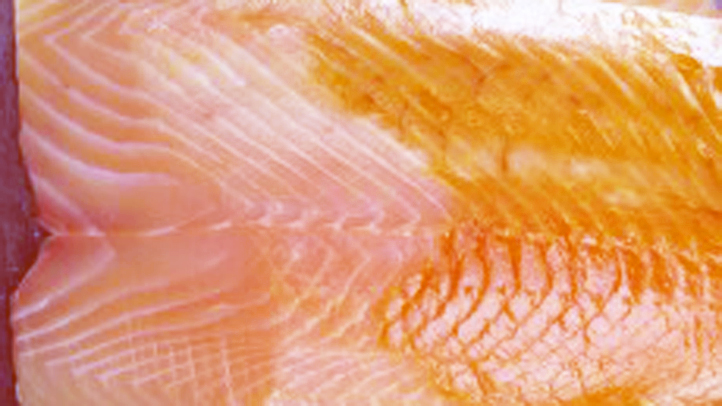 1 medium onion, about 4 ounces
1/4 cup fresh parsley
2 six-ounce fillets of salmon, bones and skin removed
1/2 whole lemon
1 cup white wine
1 cup bottled clam juice
Water to cover
SAUCE:
2 tablespoons plain yogurt
2 tablespoons sour cream
1 teaspoon fresh chive, chopped
1 tablespoon tomato paste
Black pepper and kosher salt to taste
1 cup chop tomatoes
2 cups assorted salad greens
2 teaspoons salad dressing (your favorite brand)
Peel and thinly slice the onion. Lay the rounds on the bottom of a 2-quart pan. Top with the fresh parsley. Run your hand lightly over the salmon pieces to make sure all the bones are removed. If not, pull out using your fingers or pliers. (Looks funny but it works.)
Lay the salmon fillets atop the onion slices and dill sprigs. Doing this lifts the fish off the bottom of the pan, allowing the salmon to cook more evenly. Most poachers come with a rack that performs the same purpose.

Cut the lemon half into wedges and squeeze the juice onto the fish. Put the wedges in the pot. Pour into the pot the wine and the clam juice. Add as much water as necessary to completely cover the fish.

Place the pan on medium to medium-high heat. Watch carefully as the water temperature rises; you want the liquid to gently tremble without breaking into a boil. Regulate the heat so the temperature remains just under the simmer. Don't cover the pan, you want to watch the action. Poach the salmon for about 7 minutes. You see the flesh gradually lighten and become opaque. When ready (if you have to, use a sharp-pointed knife and take a discreet peek to gauge the degree of doneness), remove the fish pieces to a paper towel-lined dish and gently blot dry.

To prepare sauce:
In a small bowl, mix plain yogurt and sour cream. Mix in chopped fresh dill and a pinch of kosher salt and black pepper. Set aside.

Preparation:
Halve six tomatoes and place in a large bowl with assorted salad greens. Pour in your favorite dressing and toss light until the tomatoes and greens are lightly coated. Divide the greens in two and arrange decoratively on your plates. Mound the greens up a bit to give a little height to the final presentation.
Place one piece of salmon on each plate and garnish with a dollop of the yogurt-sour cream sauce. Serve. Makes two portions.