There were several reports of damage Friday night as wind gusts cause downed trees and power lines across Connecticut.
Wind gusts of up to 45 mph were reported across the state. Eversource is reporting more than 4,200 power outages as of 10:30 p.m.
Temperatures have dropped below zero and continue to decline.
Several storm-related incidents closed roads and caused delays Friday night.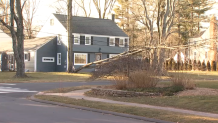 Transportation officials said the Merritt Parkway is closed in both directions in Stamford because of a downed tree on the road.
Route 131, or Quinebaug Road, is closed between Parker Road and Fabyan Road in Thompson because of a tree down on wires. Also in Thompson, Route 21 is closed at Robbins Road because of a tree down in the road.
Route 169 is closed at Liljegren Road in Woodstock after a tree fell down on wires.
State Route 609, or Westcott Road, in Killingly has been closed for several hours in the area of Cranberry Bog Road due to a tree down on wires.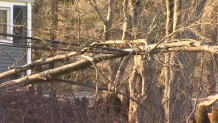 Tolland crews are responding to the area of the 300 block of Plains Road because of a tree and wires down. The road is impassible and drivers are being asked to take alternate routes.
Several roads in Norwalk are closed because of downed trees and wires.
In New Canaan, Metro-North is providing substitute bus service while crews work to remove a tree that's down on tracks with damaged wires.
In West Hartford, a tree limb appears to have fallen down in the front yard of a home on Hyde Road. It brought down power lines in the process.
For the most up-to-date information on road closures reported by the state DOT, click here.