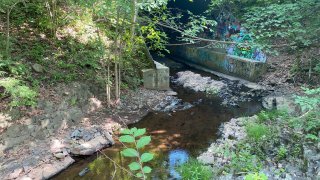 State officials are offering a $25,000 reward for information leading to the arrest of a murderer in connection to a 2012 Middletown homicide case.
Governor Ned Lamont issued a proclamation offering a reward for vital information in the June 16, 2012 killing of a New Britain mother.
Hikers found the body of then 30-year-old Diana Eichler inside the drainage tunnel of Miner Falls on Miner Street in Middletown, according to police.
Authorities said Eichler was the mother of a young daughter. Police have been investigating the case for 10 years and they said they've followed up on numerous leads.
In an interview with NBC Connecticut, police said they've been tracking down leads even as far away as Ohio. Eichler's mother, Marge, believes there are people who know what happened and hopes they share that with detectives.
Marge was in shock when she found out there's now a reward for information to help whoever killed her daughter.
"It's a nightmare that I hope nobody else has to face like we faced," Marge said.
Diana's young daughter has been in the care of Marge since her death.
"It hasn't been easy for her. Her life has not been the happiest," Marge said.
Over the years, investigators said they've been piecing together the homicide case and do have people of interest.
"We're just looking for the public's help to get us one more piece that we need," Detective Christopher Iovene said.
The case remains a priority, with Diana's picture pinned near the detective's desk.
"We keep that there to remind us about it. It's not something that's going to go away. We're always thinking about her and where we can go to solve the case," Iovene said in an interview.
And her mother - who adopted Diana at age nine and raised her along with 20 other kids - also hopes the reward prompts someone who knows something to come forward.
"I see this as a good first step to justice for Diana," Marge said.
Middletown Police are asking for the public's help in solving this crime and bringing the person responsible to justice, they said. Anyone with information is asked to contact Detective Iovene at 860-638-4148.