Our meteorologists are timing out the nor'easter that will continue to impact the state on Tuesday.
This storm is featuring rain and heavy snow.
Depending on where you live, you could see as little as an inch of snow to as much as 18 inches of snow.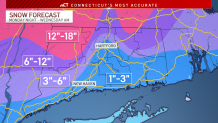 There are thousands of power outages across the state. Eversource has brought in hundreds of extra crews to respond to outages and downed trees and wires.
Hundreds of districts have already made the decision to dismiss early or be closed on Tuesday. A list of closings can be found here.
Tuesday
The changeover from rain to snow is happening or has already happened in multiple communities across the state on Tuesday morning.
The snow will continue across the state during the morning and throughout the day.
With temperatures close to freezing, the snow will be wet and heavy.
During the day, the snow could create tricky travel conditions. Several roads are closed due to crashes or downed trees or wires. A full list can be found here.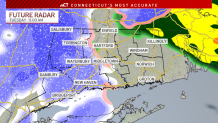 The snow will continue during the afternoon and into the evening.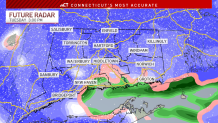 It will be snowing across most of the state during the evening commute.
As the evening goes on, the snow will wind down and move out.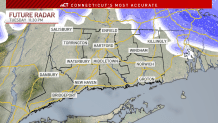 Wednesday
By early Wednesday, the storm will have moved out of the state.
Winds begin to pick up later Tuesday into the day Wednesday.
Wind gusts will get over 40 mph.